Guided visits to the Fundación MAPFRE Collection at the Venancio Blanco Religious Museum
These tours are carried out in collaboration with the Fundación MAPFRE Culture Area.
The Venancio Blanco Religious Museum project was commissioned by MAPFRE in 1996 and opened in 2001 in the Monte del Pilar chapel in El Plantío.
The sculptor Venancio Blanco conceived the museum as a space for meditation, where art and religion come together to shape something new, not previously contemplated by traditional iconography.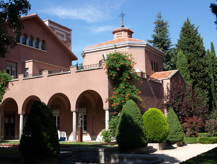 Visiting hours
Monday to Friday:
Mornings from 10:30 am to 2:30 pm
Evenings* from 6:00 pm to 7:30 pm *(evening session CLOSED in winter)
Saturdays and Sundays: from 11:00 am
Guide
Nuria Urbano Cambronero
Location
Avenida Victoria 35 off Carretera de El Plantío (near the El Plantío nursery and El Plantío 35 restaurant).
Access the estate is via the bridge over the railway. The entrance to the estate is signposted CAMPUS MONTE DEL PILAR (there is no sign to the museum).
Parking is available on site
Public transport lines 651-652-653-654 and suburban train line (Cercanias) (Majadahonda train station).
More information: rcollaz@fundacionmapfre.org
Booking rules
Applications are accepted on a first-come, first-served basis.
Bookings are confirmed in writing by the Fundación MAPFRE Culture Area.
Visitors must follow the FUNDACIÓN VENANCIO BLANCO rules (photography is not permitted during the tour; no touching the works, running or speaking loudly).
A group leader must accompany visitors at all times during the visit.