Guided visits to the Fundación MAPFRE Collection at the Venancio Blanco Religious Museum
These visits are in collaboration with the Fundación MAPFRE Culture Area.
In 2001, the Venancio Blanco Religious Museum project was inaugurated, which was originally taken charge of by MAPFRE in 1996, for the Chapel of the palace of the Monte del Pilar estate, at El Plantío in Majadahonda (Madrid).
Venancio conceived of the Museum as a space for meditation, where art and religion came together to configure something new, which traditional icons had not contemplated before.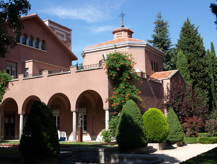 Opening hours
Monday through Friday:
In the mornings from 10:30 am to 2:30 pm

In the afternoons* from 6 pm to 7:30 pm *(CLOSED in the afternoon during winter)
Ubicación
Carretera de El Plantío, junction of Avenida Victoria 35 (close to the "El Plantío" nursery and El Plantío 35 restaurant).
Access to the estate is from the bridge that crosses over the rail tracks. The entrance to the estate displays a sign that reads "CAMPUS MONTE DEL PILAR". (There is no sign specifically referring to the Museum).
There is parking available inside the estate for vehicles, (to the left).
Public transport lines 651-652-653-654 and CERCANIAS (Majadahonda train station).
More information: 91581 61 00 / cultura@fundacionmapfre.org​
Reservation criteria
Requests are attended to as they are received.
The Fundación MAPFRE Culture Area will confirm the reservation in writing to the corresponding center/person.
Visitors must follow the rules of FUNDACIÓN VENANCIO BLANCO (Photographs are not permitted during the tour, the artwork may not be touched, and running or speaking aloud are not allowed).
A person responsible for the group must accompany the visitors throughout the entire visit.